Smart Visoglide Plus Sliding & Folding Doors
Our Aluminium sliding and folding patio doors deliver optimum performance and are tested to the highest standards to guarantee reliability. The strong, thermally broken Aluminium sections enable the creation of dramatic sliding sashes with large glass areas without reducing thermal or weather resistance.
Special sliding mechanisms enable even the largest sashes to slide open and close smoothly, whatever their size.
When closed these large sliding doors form a thermally efficient glass façade, a wonderful way to flood a space with light and enjoy beautiful views.
Double and triple track options
Triple-track format with three sliding panes allowing up to 75% opening aperture
Multi-point locking doors available in single and dual colour options
Wide choice of standard and non-standard finishes (Smart's unique range of textured colours
U-rating of 1.7 W/m2K unit UG-value of 1.2
Glazing type- 28mm double glazed as standard up to 36mm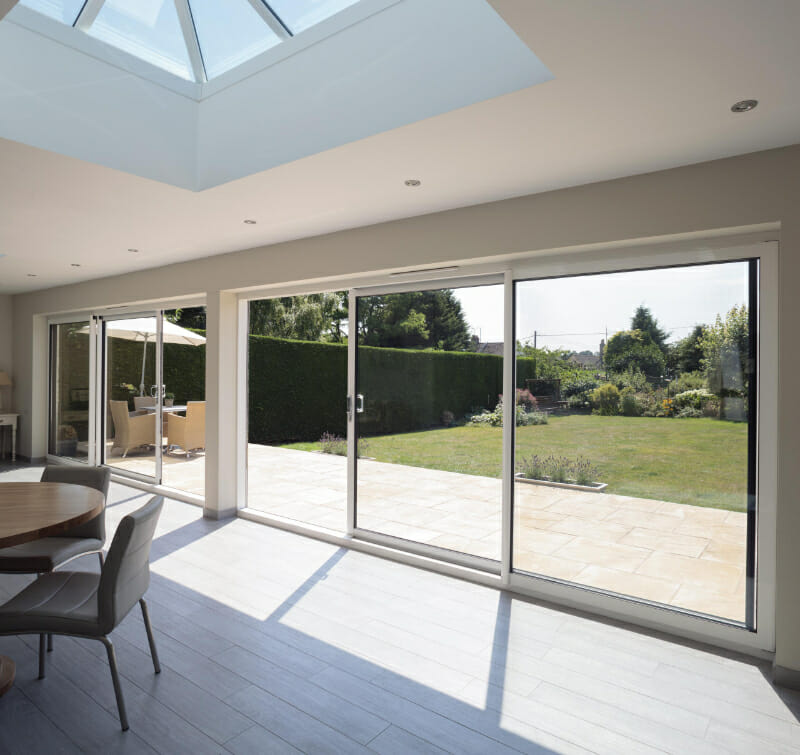 Slide 2000 is the latest innovation in Smart's popular series of elegant sliding doors and windows.
An evolution of the original Slide system using continental style construction, Slide 2000 features the signature slim profiles and minimal sightlines associated with the range,
Modern thermal break technology provides consumers with both enhanced thermal performance and the option of dual colour profiles in a wide choice of colour finishes.
The system is designed for use as sliding patio doors in residential applications for both new build homes and refurbishment projects.
Slide 2000 is also suitable for use as horizontal sliding windows for light commercial use such as external serving hatches in restaurants. Sliding windows are also ideal for applications, such as schools and hospitals, require an open sash that does not project creating an obstruction.
Slide 2000 uses a selection of mitred outer frames featuring a duel or triple track option allowing the choice of 2, 3 or 4 pane doors. Two pane doors can have either duel sliding sashes or a fixed pane and one sliding opening sash configuration. If fitted with a triple track threshold all three sliding sashes can be configured to slide to one side which gives a 2/3 opening aperture.
The sliding door sets are fitted with a multi-point locking, one piece lock keep that offers enhanced security. Smaller horizontal sliding windows can also be fitted with single point locking mechanisms.
Slide 2000 doors will accept 24mm, 28mm or 32mm double or triple glazed sealed units.
Visofold: Aluminium Sliding & Bi-folding Doors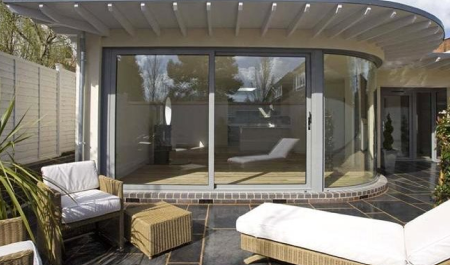 Visofold can be used in domestic applications as either an alternative to sliding doors or to open up an entire wall as part of a conservatory; the system will make the most of a beautiful view or bring a garden into the home.
Used commercially in a bar, café or restaurant, Visofold can create a glazed screen that allows in the maximum ingress of light in inclement weather and will also easily glide to open up an entire wall in warmer weather. Visofold doors offer a choice of opening
configurations to suit any application. Choose to fold the sashes internally or externally, place the opening at the side so the sashes all fold one way, at one end, to create a single entrance door for easy access, or in the middle to give the option of a double door.
All Visofold profiles feature a polyamide thermal break that enhances the thermal performance of the profile and improves the overall U-Value. Profiles feature EPDM high-quality gaskets and weather brushes to aid weather resistance. Visofold complies with the requirements of Building Regulations Document L 2010. Security is assured by multi-point lock mechanisms on main opening sashes and shoot-bolt locking on floating mullions.
All Visofold doors have the option of either low thresholds for unimpeded, easy access, or rebated thresholds that offer improved weather resistance. Visofold doors are available in a choice of standard or non-standard colours, including metallic, wood-structure, dual colour and Smart's unique Sensations range of textured finishes.
Single or dual colour, marine quality polyester powder coated as standard
Low U value 1.5W/m2K using a 1.0 centre pane
PAS 24 Security compliant
Double or Triple Glazed Units
Slim-line profiles for reduced sightlines
Our friendly team can help
Whether you're looking for regular shaped windows or something a little different
our friendly team can help. Call us 01295 263 364.
access through the sliding doorway is made easy for wheels to travel over.
The WHS Halo Patio Door is designed to provide the highest standards of aesthetic appearance, durability, and security by incorporating the latest standards in hardware design.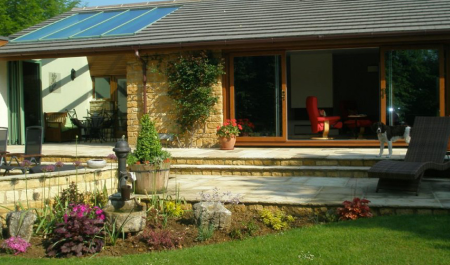 A sliding Patio Door has the advantage of large panes of glass with less frame to obstruct the view beyond. The sliding frame will provide a seamless access point from the house to garden with no frame intrusion into the room as it slides open which is ideal for a doorway between the house and a conservatory.
The sliding door can be used to form a porch entrance and can include a midrail to take care of a letterbox. With a low threshold,
2/3/4 pane
High security: Anti jacking system, 4 point hooklock, 1 piece keep
Reinforced low maintenance PVC-U frames
Excellent weather protection & heat conservation
Suitable for conservatories & porches
Midrail with letter plate available in the decorative range
Slim stepped 70mm outerframe for minimal plaster cutback
Multi-chambered profile for greater thermal insulation
Low-line gaskets extruded to sash frame for larger visible glass area
Stainless steel easy glide track system
Concealed drainage and double wool piling for improved draft proofing
Handles available – gold, chrome, white & black
Internal slider as standard – external optional
Nightvent facility available
Available with Featured or Chamfered bead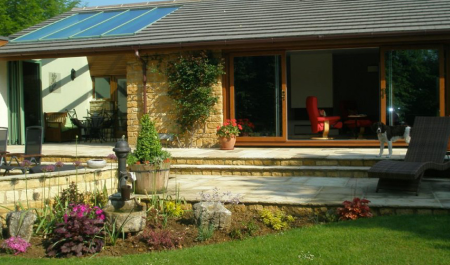 Our high performance PVC-U bi-folding doors are designed to give you the advantage through a technically innovative product that has become the market's 'must have' product of today. The bi folding door meets the demands of contemporary living combined with beauty, function and form.
Door panels are configured into a number of folds for greater versatility, which concertina into a small space, allowing optimum light and access into a room with minimal obstruction. It allows for a
wider opening from a house or conservatory – extending any home so owners can enjoy the benefits of the outdoors and their gardens all year round.
Ideal in applications where an opening or partition is required between rooms, or where the home leads onto a patio/ outside area. Our Bifolding doors are suitable for domestic, commercial & retail applications.
Simple Slide And Fold Operation
Using the recommended gearing ensures that the door sashes operate smoothly and effortlessly giving a total performance. The door leafs are hinged to a mullion supported by a roller mechanism which slides on tracking.
Chamfered & Sculptured 70mm Systems
Smooth easy glide operation to open
Door panels fold back fully to optimize the opening area
A suitable alternative to In-line patio doors or french doors
Hardware bottom running
Ideal for conservatories or extensions leading into the garden
Internally glazed single leg bead
Chamfered edge feature
No special profile required
Inward opening
Available in a choice of colour options
Timber Sliding Patio Doors
George Barnsdale produce their Sliding doors to their extremely high specifications allowing for easy operation. The low resistance sliding can be precisely adjusted to ensure that it opens and closes with ease.
Security is by way of multi-point locking to engage all bolts when the specialist handle is locked in an upright position. The advanced cylinder lock meets the highest rating for security.
The high performance low threshold contributes to the overall performance of the door operation and the design incorporates gaskets and sealing plugs for maximum weather tight closure.
Contact CN Glass today to arrange a quotation. Reach us in the following options.

Norton House, Beaumont Road
Banbury, Oxfordshire OX16 1SD
"*" indicates required fields