If you're thinking of catflap installation into your double-glazed, windows or glass doors, then you've come to the right place. We have a lot of experience with cat flaps!
Many houses in the Banbury, Oxford and Bicester areas have double-glazed doors and need specialist cat flap fitting.
CN Glass offers custom glazing services, supply and fitting of standard cat and dog flaps into glass, double-glazed doors, wooden doors, UPVC panels and patio doors.
In some cases, we can replace the doors where needed.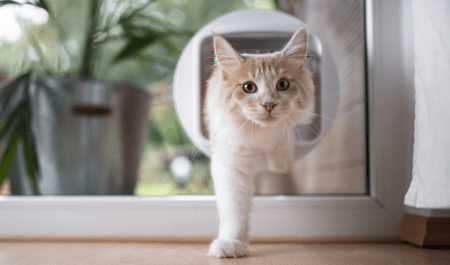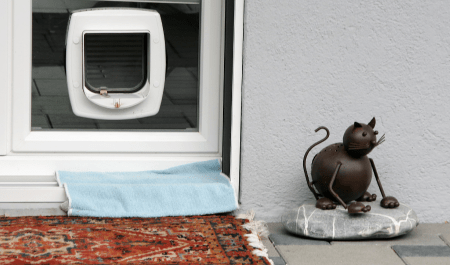 CN Glass has carried out many installations and can help walk you through the options before making your decision.
Cat flaps in double glazing can be tricky, so when installing pet flaps, we advise you to call our expert glass cutters for a perfect fit, with both the aesthetics and safety you need.
A lot of new housing in our area of Banbury, Oxfordshire, and Buckingham, have been fitted with security standard double-glazed doors.
Cutting and fitting can be harder than it first looks, with non-standard sizes, and we've had a steady stream of clients and installers coming to us halfway through their DIY projects.
Talk to us first and we can help walk you through what you'll need
Cat flaps into sliding doors
In some cases, we are asked whether we can fit cat flaps into sliding doors, which can be a challenge because of the doors function. The only way is to reduce the space into which you slide the opening door.
As an alternative, customers have chosen to install a flap in a window and provided a creative solution to allow their cat access, such as little ladder leading to the flap!
Because we cannot cut a hole in toughened or laminated glass, in those cases we will propose replacing the glass panel and provide the cat flap pre-fitted in the new glass.
Cat flaps into UPVC panels
With UPVC Panels, like most companies, CN Glass won't be able to cut into your existing doors if it has ridges, designs or if it is reinforced with steel.
We can however provide you with new UPVC Panels as we offer a wide variety of options for you to choose from.
Cat Flaps into Wooden Doors
Wooden doors are easier to install pet flaps in.
Cutting into your existing door can usually be done in one visit. Please note we do not cut into communal doors due to safety protocols, as they are usually Fire Safety Doors.
Contact CN Glass today to arrange a quotation. Reach us in the following options.

Norton House, Beaumont Road
Banbury, Oxfordshire OX16 1SD
"*" indicates required fields