Double Glazed Sealed Unit
CN Glass manufacture Double Glazed Units to British Standards BS EN1279 Parts 2 & 3.
A skilled workforce in traditional glass and glazing techniques working with the most up to date machinery providing high quality hand finished products for our customers.
The annealed glass is cut for production on our Automatic cutting bench then passed through our toughening plant where required before then taking the journey through the unit assembly line and finally the units are sealed by hand.
We believe a hand finished double glazed glass unit produces a superior quality unit because each glass unit is constantly being monitored as it goes through manufacture and we are proud to put a 5 year guarantee on all our supply only double and triple glazed units subject to the glazing of the units also being carried out to British Standards BS 6262.
We guarantee our units for 10 years when we also carry out the installation of them into new frames.
About Our Double Glazed Sealed Units
Double Glazed Sealed Units are manufactured by us using either Aluminium Spacer Bar or Warm Edge Spacer Bar to provide the air gap between the two panes of glass.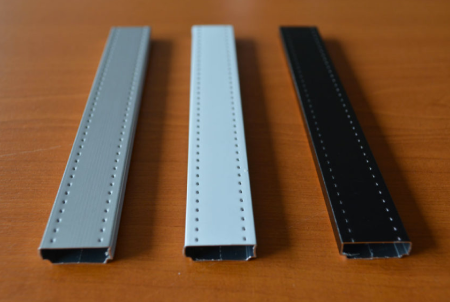 A spacer bar, sometimes known as a profile, is the continuous hollow Aluminium frame that separates the two glass panes in a double glazing window.
The spacer bar is bonded to the glass panes via a primary and secondary seal, creating an airtight cavity which is filled with air or gas. The spacer bar itself is filled with a desiccant to absorb any residual moisture within the cavity and thus prevent condensation within the double glazing window. Spacer bars are an important contributor to a double glazing window's energy ratings. Aluminium spacer bars are currently the most commonly used in double glazing windows. Light but strong, their flexibility means that they can be formed into a wide variety of shapes and sizes. Less expensive than warm edge spacers they are, however, less effective in insulating against heat loss than warm edge spacer bars.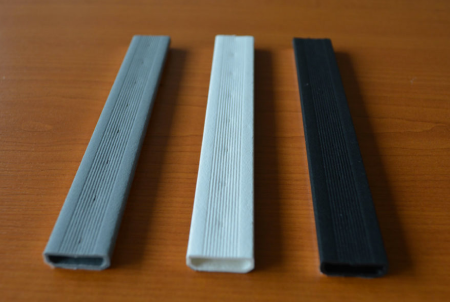 Low E windows with the highest performing double glazing window energy ratings use a combination of Low E glass, warm edge spacers and argon gas-filled cavity.
Warm edge (or thermal break) spacers reduce the heat lost around the perimeter of a double glazed window unit by replacing conventional aluminium with a low heat-conductive material. As with aluminium, thermal break spacer bars are filled with a silicone desiccant to absorb any moisture within the double glazing window and can contain dry air or gas-filled cavities. Thermal break spacer bars further reduce condensation on the room-facing surface of the double glazing window as they transmit less of a temperature difference to the interior pane.
Warm edge spacer bars have the same geometrical form as a metal spacer bar, but are usually made from a fibre-glass reinforced insulation material. An ultra-thin foil lining acts as a barrier to the gas or air trapped within the cavity. Some warm edge spacers are available in an array of different colours.
Our friendly team can help
Whether you're looking for regular shaped windows or something a little different our friendly team can help. We also provide Supply Only Sealed Unit Double Glazing.
Please call us 01295 263 364.
The introduction of gas into the cavity of a double glazed unit reduces the heat conductance between the panes, helping to keep more heat in during the winter and out in the summer. As a result living and working conditions become more comfortable the whole year round. The combination of Argon Gas and Low E energy saving glass can achieve an improvement in thermal performance in the region of 50% over and above that of a standard sealed unit.
which has 34% lower thermal conductivity than air, is the most commonly used. Apart from its heat insulation properties, Argon is non-toxic, sunlight stable, non corrosive, colourless and odourless.
Although argon-filled units cost around 5% more than air-filled units, they can improve a double glazing window's U value or energy rating by over 30%. Argon fillings should last the lifetime of a double glazing window and over a period of 25 years should not lose more than 5%.
is even more energy efficient than Argon but are seldom used in double glazing windows as they are more expensive.
It is important to note that sometimes you do have to use Krypton when limited width is available. i.e.: in old buildings for example. The thickness of our double glazed units can vary depending on the project requirements.
The table below shows a list of the thicknesses available: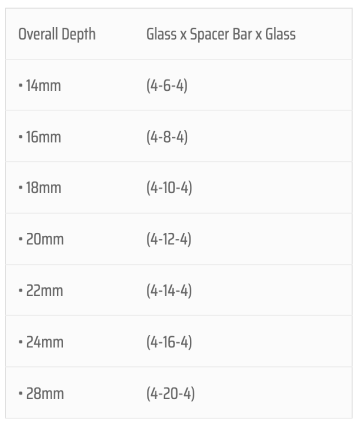 The thickness of a normal double glazed sealed unit can vary in size depending on the frame.
Most of the older timber frames tend to accommodate 14mm or 16mm units, with the newer timber frames (complying with the building regulations part L) typically being 20mm – 24mm.
Most sealed units we make now have 'Low E' glass to meet current building regulations and are 20mm or thicker.
Glass is a good insulator but it would need to be very thick as a single pane in a window to have much effect.
So rather than have thick glass in your windows it is better to have two panes of glass with an air or gas space between them. The bigger the air space, the less heat is lost, up to an optimum of 20mm.
All well designed and well fitted double glazed units significantly reduce the intrusion of unwanted noise.
By specifying glasses whose thickness differ by at least 30%, resonance effects are suppressed and the acoustic benefits are, therefore, maximized.
A 20mm spacer is the widest available, so using 4mm glass the widest unit will be 28mm which is used as standard in all our PVCu and Aluminium windows and doors, with thinner units more commonly used in timber frames.
What are the benefits of having double glazed units?
Heat loss through single glazing will be at least halved with double glazed units
Draughts through windows caused by sinking cooled air will be less with double glazed units
Rooms will be warmer with double glazed units
Outside noise can be reduced with double glazed units
Condensation can be reduced with double glazed units
Increases the saleability of the property with double glazed units
Savings on fuel bills with double glazed units
About Condensation on Glass
This leaflet explains why condensation occurs on internal and external surfaces and offers some advice about control.
Triple Glazed Sealed Units
At its most basic a Double-Glazed Unit will consist of two pieces of glass seperated by a spacer bar which denotes the thickness of the cavity. By using three panes of glass and two spacers we can make a Triple-Glazed unit. But to put things in context, a single-glazed window will have a U-value of 5.0W/m2, double-glazed will be between 2.2 and 1.2W/m2 and triple-glazed 1.0 to 0.6W/m2.
In a new build, installing double glazed windows is a must, but there is little point in triple-glazing unless you have super-insulated the rest of the house.
Triple-glazing will cost about 20 per cent more than the standard double-glazing cost and reduce the overall heat loss by about 5 per cent.
Contact CN Glass today to arrange a quotation. Reach us in the following options.

Norton House, Beaumont Road
Banbury, Oxfordshire OX16 1SD
"*" indicates required fields