Experience the Future of Windows with Vacuum Glazing Technology
Achieve peak performance with LandVac vacuum glazing - the industry leader in energy efficiency, reliability, and soundproofing. CN Glass is both a vacuum glass supplier for Landvac and Window Manufacturers.
This product has exceptional thermal performance and efficiency, exceeding quad glazing, but in an ultra thin profile.
LandVac is tempered Vacuum Insulated Glass (VIG) that combines the best performances in thermal insulation and noise reduction. It free of inner condensation with appealing aesthetics and integrates seamlessly into existing frames or new windows and curtain walls.
Much longer service life.
Unlike other Vacuum Insulated Glass (VIG) technologies, LandVac offers a unique low-temperature sealing technology and has successfully solved the world-class problem of tempered glass annealing during production, ensuring a much higher vacuum and much longer application/service life.
We provide window repairs for all types of windows including uPVC, aluminium, timber and also secondary double glazing.
*Note: All our units are guaranteed for 15 years!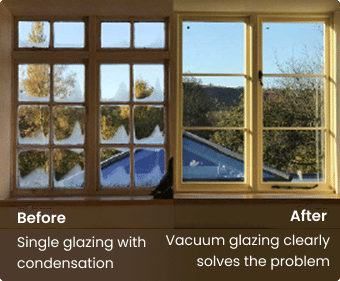 Vacuum Glazing is highly efficient double glazing. Like standard double glazing, it is made with two panes of glass separated by a cavity. However, instead of the usual gas or air-filled cavity, all air is extracted, and the unit is completely sealed.
The effectiveness of the vacuum means that the gap between the two panes can be incredibly narrow – around 0.3mm. This narrow gap makes Vacuum Glazing the perfect choice for heritage windows which emulate single glazing.

Beautiful
The sleek Ultra-Thin profile makes this perfect for existing double glazing profiles.

Safe
The LandVac unit is always constructed from two panes of 4mm toughened glass.

Warm
This product has exceptional thermal efficiency, exceeding quad glazing, but in an ultra thin profile.

Reliable
Industry leading 10-year warranties and an anticipated lifespan in excess of 25 years.

Quiet
Leading acoustic performance, without the need for thicker, heavier panes of glass.

Sustainable
The bare LandVac units are fully recyclable and have no noble gasses which are energy intensive to produce.
Vacuum Glazing vs Traditional Glass
Compared to Triple Glazing, Vacuum Glazing has:
Higher energy efficiency
Noise reduction
Better light transmission
Slimmer profile
Longer Service Life
| What's so special about LandVac? | What does this mean for you? |
| --- | --- |
| Aesthetical slimmer design | Suitable for retrofitting of existing windows |
| Outstanding thermal insulation | Constant u-Value 0.45 W/(m2K) regardless of inclination |
| Delivers Rw36dB in noise reduction | Making your rooms as quiet as a library |
| Free of inner condensation | Allowing windows or freezers to maintain their transparency |
| Fully tempered safety glass | Significantly stronger glass, when broken becomes small, less harmful particles |
| Slimmer structure | Much lighter (20kg/m2 / 8.3mm, 25kg/ m2 / 10.3mm) |
| Environmental adaptability | No thermal expansion or contraction in the high vacuum chamber, same U-value at different locations or elevation |
| Long life | Over 25 years in service life and 15 years guarantee |
| Lead free and recycled | Recycles and embraces the circular economy |
| Usage of more free solar energy | Lower energy consumption and low emissions |
Contact CN Glass today to arrange a quotation. Reach us in the following options.

Norton House, Beaumont Road
Banbury, Oxfordshire OX16 1SD
"*" indicates required fields