Secondary glazing solutions
We are a secondary glazing manufacturer and supplier based right in the middle of the UK, shipping across the country.
A secondary glazing solution helps a great deal with heat loss and energy bills. It is installed behind existing windows for thermal performance over and above single glazing.
Reduced heating bills through energy efficiency and heat insulation can often motivate secondary glazing systems.
Noise reduction
But there are also acoustic benefits in reducing noise levels through sound insulation. The external noise reduction, freedom from noise pollution and improved acoustic performance are often unexpected but welcome for our customers.
Listed Building Secondary Glazing
In period properties and historic buildings, it is an alternative to replacement windows and window frames because it does not need planning permission in historic buildings from a planning authority.
For this reason, secondary glazing as an extra pane of glass is often used in grade 1 and grade 2 listed buildings as well as many other types of premises such as schools, colleges, hospitals, universities, hotels and commercial buildings, i.e. offices. It is a cost-effective way to achieve energy savings.
Secondary glazing unit solutions are supplied fully assembled and comprise an aluminium outer frame joined to a seasoned hardwood surround, containing the glazed window, which allows for a neat, unobtrusive installation even in the most difficult situations.
A range of hardwood sub-frames and scribing trims can assist in face fixing, reveal fixing and coupling units. This allows the satisfactory refurbishment of our largest primary windows.
Secondary Double Glazing install behind the original metal frames in a
cottage.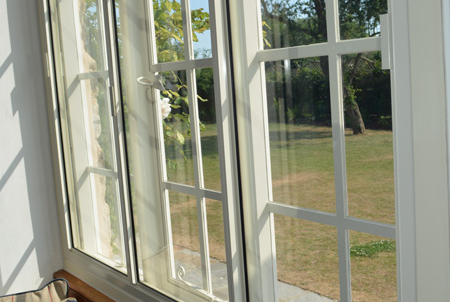 Secondary Double Glazing showing the opening catch to slide and reveal the original window behind.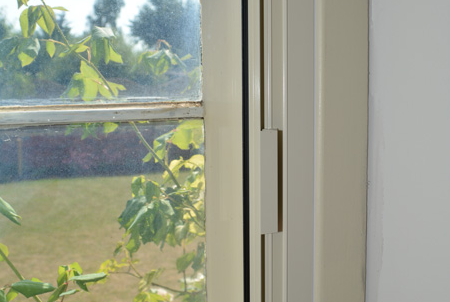 Ideal For Historic And Listed Buildings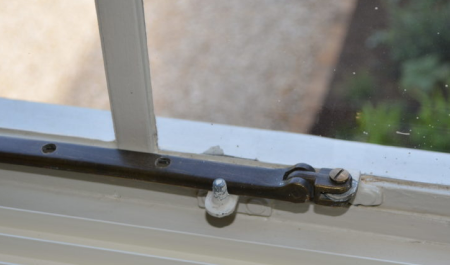 Secondary Double Glazing installed into a listed property. Look closely because it is not easy to see it, that's the beauty of this product, it will not spoil the original look of the windows.
Secondary Double Glazing will eliminate drafts, increase security, reduce noise from outside.
Secondary Double Glazing is almost unseen- Picture shows the frame designed to be exactly the same as the original frame.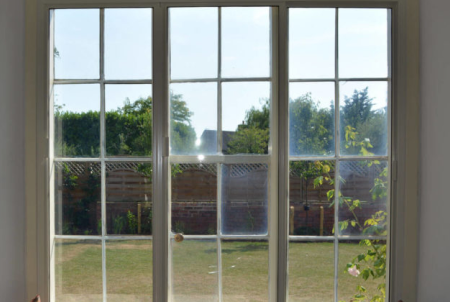 Secondary Double Glazing – Handle to slide
the glass open allowing access to the original window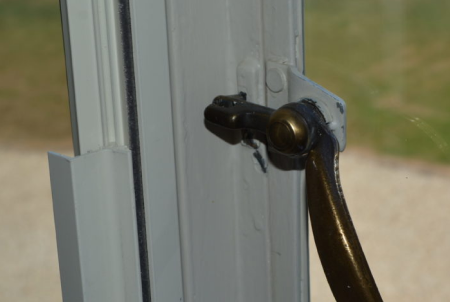 We have a comprehensive range of styles to suit just about every application, including Horizontal Sliders, Hinged Units, Fixed and Lift-Out Units, Vertical Sliders as well as Balanced Vertical Sliders and Tilt-in Balanced Vertical Sliders. We can supply frames in white, silver or brown as standard and can accommodate any R.A.L. colour upon request to suit individual requirements. We can also provide a wide range of glass types such as clear, patterned, toughened, laminated and acoustic.
More information on our Slim Heritage Double Glazed units can be found in the following article published by 'The Listed Property Magazine'.
Double Glazing Traditional Windows
Granada Hu Product Information
Granada Product Information
Our range of secondary glazing is renowned for its thermal efficiency. Varying degrees of improved thermal insulation can be achieved by using such glasses as Pilkington K and Low E. If glass is thermally at risk then care must be taken to specify toughened glass. The harmful effects of ultra violet radiation can also be reduced whilst letting in solar heat. In addition specialist films can be adhered to the glass to further increase thermal insulation whilst adding to the security of the product and the premises.
Our units have been tested for sound reduction at the AIRO Acoustics Laboratory (an accredited NAMAS Testing lab, number 0483) in accordance with BS2750: part 3 and BS5821: part 3 1980 : 1984, using a purpose built sound transmission suite.
CN Glass Ltd often attending The Listed Property Show in London.
We demonstrate traditional glazing techniques where you can come and have a go at face puttying glass into a frame.
Our Heritage Double Glazed Units are produced by us using Edgetech Superspacer warm edge technology and energy efficient glasses with inert gases to fill the air gap. The units will be on display, both glazed into frames and unglazed providing the opportunity to learn everything you need to know, see and feel about the products that we are proud to produce in our workshop.
Secondary Double Glazing is installed behind existing windows but no one really wants to see it so we will have a display to demonstrate just how this is done.
Refurbishment of traditional sliding sash windows is very much a balancing game with ropes and weights. This all forms part of the glazing trade workshop and we will be there to demonstrate how we do it.
Contact CN Glass today to arrange a quotation. Reach us in the following options.

Norton House, Beaumont Road
Banbury, Oxfordshire OX16 1SD
"*" indicates required fields