Using Your Conservatory All Year Round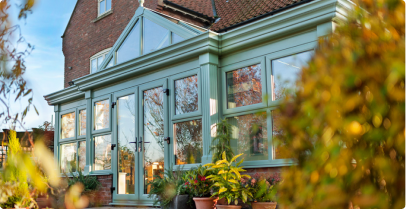 A well-designed conservatory can help reduce energy bills, by creating a 'buffer zone' on your home, and so any heat that escapes through the walls where the conservatory fits is used within the conservatory. This buffer effect can also be used to store heat during the day; this can then heat the main building when the conservatory doors are open.
These tips will further assist in the optimisation of the thermal efficiency of your proposed conservatory – please consider them at the design stage with your Conservatory Association Member:
Use external quality double glazed doors between your home and your new conservatory; this will provide added thermal performance and security between the main house and the conservatory.
Select the best glazing specification you can afford with your budget.
Low emissivity coatings on the inside face of the insulating glass unit reduces heat loss from your radiators inside the structure this is strongly recommended for north facing conservatories.
Solar control layers can control glare and the amount of the sun's energy that is transferred into the living space – this is specifically recommended for south facing conservatories.
Ensure any heating appliances have their own thermostatic controls, so you can separately control the conservatory's temperature.
CN Glass offer good thermally insulated bases, dwarf walls and floors.
Design in natural ventilation (trickle vents, top opening windows, roof vents) when the conservatory is on the drawing board – it is much easier at this stage than later.
The use of natural ventilation is far more economical (and better for the planet) than air conditioning.
Our friendly team can help
Whether you're looking for regular shaped windows or something a little different
our friendly team can help. Call us 01295 263 364.

This gives you a clear view up through the roof but it is heavy and so not suitable for all constructions.

This is lighter in weight; it creates a softer light effect in bright sun and is inexpensive. However, it is a little noisier in heavy rain or hail.
A Breath of Fresh AirA Breath of Fresh Air
Glass does not breathe in the same way as brick or stone so ventilation is more important than ever, especially when a spot of sun can send temperatures soaring.
Many roofs have built-in trickle ventilation and Building Regulations specify a certain area of opening windows per floor area. Technological developments mean that you can even have opening roof vents installed that can be thermostatically controlled
with built-in rain sensors. We will be happy to advise you on this. Almost every window lock has a 'night-vent' setting, which allows you to lock it in the slightly open position. It's a good idea to set a couple this way, if not fully open, on hot days in a sunny conservatory.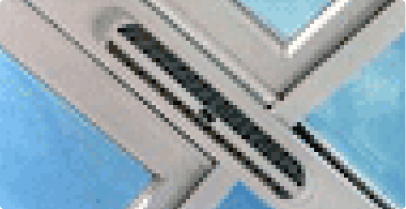 The unique Ridgeflow, mechanically assisted ventilation system offers a secure source of ventilation that is thermostatically controlled, providing up to four air changes per hour in a standard 3m x 3m conservatory.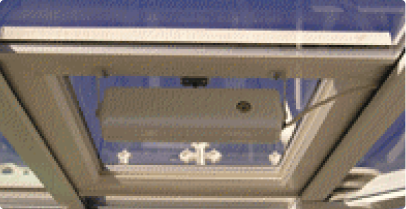 Designed to fit into the slope of your conservatory the roof vent is ideal to allow large quantities of fresh air to get into your conservatory. There is a choice of manually opening vents using a brass worm drive opening mechanism and decorative long handled opening pole or for ultimate environment control, you may specify a thermostatically controlled electric opening system incorporating a rain sensor.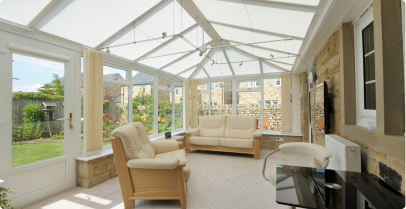 Double glazing is a must nowadays to keep a conservatory comfortable all year round and by using low emissivity (Low-E) glass, it will cut heat loss even more. The orientation of your conservatory may mean that certain specifications of glazing are more appropriate than others because of the impact of solar heat gain from the sun.
All Conservatory Association Members – as a condition of Membership – MUST use safety glazing throughout the conservatory.
Solar control options range from 'body tinted' glass (where the colour in the glass absorbs heat from the sun) to 'metallic coated' glass products. Modern metallic coated products have the advantage of being neutral in appearance, not obscuring views, while still reflecting the sun's heat. Single 4mm glass reflects only 15% of the sun's heat, whereas modern solar control glass units can easily reflect over 70% of the sun's heat, minimising overheating. Due consideration should be given to the position of your conservatory. If south or west facing it's very advisable to consider the use of a modern solar control glass for the roof and side panels of the conservatory.
Consideration should also be given to cleaning and maintenance of the glass, throughout the conservatory. Surface modified glass such as 'self-cleaning glass' is a standard product from many companies and can reduce the need for cleaning the external pane. This can be particularly important in those difficult to reach roof areas where access is impractical.Finally, sound control can be an important consideration in your conservatory. Whether it's rain, music, lawn-mower, traffic or aircraft noise, reducing its impact can enhance the enjoyment of your conservatory. Using laminated glass or enhanced acoustic insulation laminated glass can reduce the amount of noise transferring into or even out of your conservatory! With due consideration to the frame system, appropriate glass units can easily double or treble the level of sound insulation compared to other glazing materials. In addition, laminated or acoustic laminated glasses have an ancillary benefit of reducing standard ultraviolet ("UV") light transmission. This means sun bleaching of furniture or fittings is dramatically slowed.
Contact CN Glass today to arrange a quotation. Reach us in the following options.

Norton House, Beaumont Road
Banbury, Oxfordshire OX16 1SD
"*" indicates required fields