A conservatory is a building extension just like any other, so it needs the same foundations as any building work.
This means it has to be level and effectively damp-proofed and insulated to recognised standards in accordance with Building Regulations.
To be stable, it must be dug out to a depth that will vary according to local conditions. Where brick or stone is visible in the base or in dwarf walls, materials should be chosen that match the main building unless you specifically want something different.
The right foundations for conservatories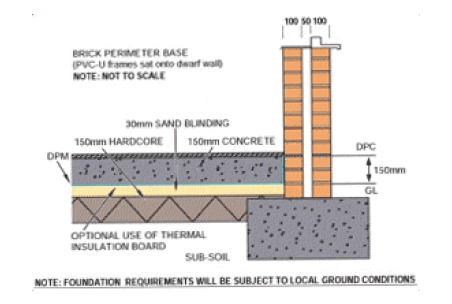 The right foundations for conservatories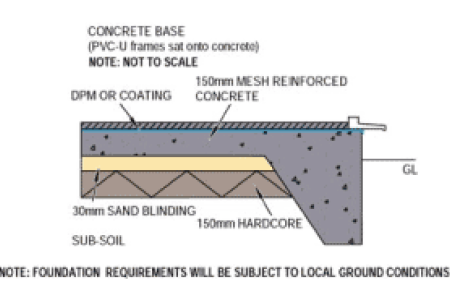 Shown above some typical 'good practice' foundation details, however, local soil conditions may require some variance to these. It is fact that up to 35% of your conservatory quote will be for groundwork, every reason to ensure that your dream investment is built on a good foundation.
A conservatory is a building extension so it needs the same foundations as any building work. A building is only ever as strong as its foundations so correct footings are essential.
The first step in creating your dream conservatory, after choosing your materials and design, will be digging and laying the foundations in preparation for building work to begin. The foundations are essential to getting the best from your conservatory and ensuring that it is there to be enjoyed by your family for many years to come. Consideration at this stage can have a direct impact on future maintenance and replacement costs for your investment, so it's important to get it right the first time.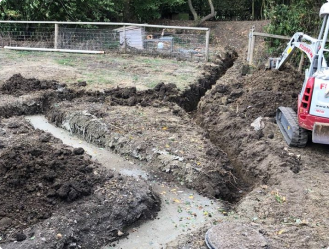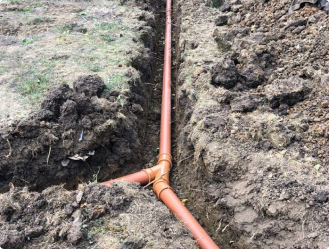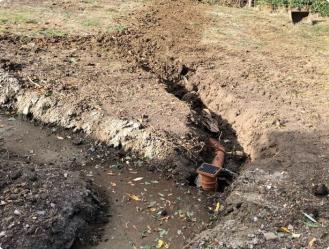 Do I Need Foundations for my Conservatory?
Yes, you do! Even the most lightweight conservatories require well-established footing to ensure they are safe and secure. If your builder or glazier tell you that you won't need to add foundations, we strongly recommend running swiftly in the other direction! Up to 35% of the whole quote you receive for your conservatory should be for groundwork, ensuring that your dream investment has the best possible foundations.
How Deep Should Conservatory Foundations Be?
How long is a piece of string? Several aspects dictate how deep the foundations for your conservatory will need to be. We perform a thorough survey of the proposed site before committing to the necessary depth of foundations, taking into account several factors. There is no structural benefit to digging foundations deeper than required and it does significantly increase the costs for the customer, so we take our time to ensure we've got it right. Interestingly, there is currently no legally defined conservatory foundation regulations. We adhere to the guidelines of the The National House-Building Council (NHBC). When a proposed conservatory requires building control approval, these are the standards to which the local authority will work to.
The Size Of Your Conservatory
Generally speaking, bigger and heavier conservatories require deeper foundations. A small single story wooden lean-to with lightweight glass will require much shallower foundations than a more ornate Orangerie-style extension. The deeper foundations are reflected in the pricing for larger projects. If you're planning a large conservatory and have good access to the proposed spot, a mini digger will make light work of excavating the deeper foundation. However, in smaller spaces (and narrow garden gates!) hand digging may be the easier option, although it can take a bit longer.
Our friendly team can help
Whether you're looking for regular shaped windows or something a little different
our friendly team can help. Call us 01295 263 364.
What lies beneath your home can greatly affect how we approach laying the foundations for your conservatory, including soil composition and previous usage of the site. Chalk is firm and generally has excellent drainage, and isn't usually disturbed by nearby trees, so only requires standard strip conservatory footings. Clay soil presents a few more problems, as it is prone to shrinkage as it dries and expansion under wet conditions. Nearby trees may also draw out moisture and cause subsidence over time. Without taking this into account, you may experience cracks, structural problems, or in extreme cases, complete building failure.
The ground you lay your foundations on should be firm, not wet and spongy. Water is bad news for conservatory footings, so building above the water table and sufficient damp proofing are strongly recommended.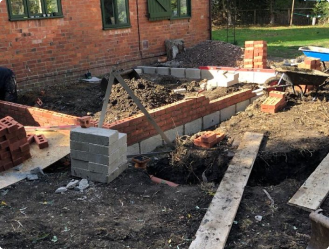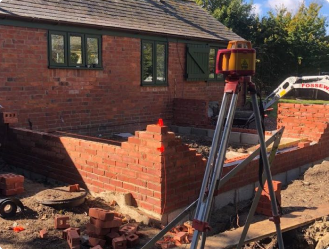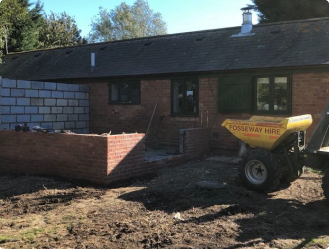 In some cases, it might be necessary to use piled foundations to ensure additional stability for your building project. If the ground conditions dictate the need for deep foundations and access for a sufficiently sized excavator isn't possible, then piles can be the best way forward. Long columns of steel or concrete are inserted deep into the ground to provide extra stability to your build and are ideal when soil excavation to the necessary depth isn't possible.
Although trees are a beautiful and desirable addition to our gardens, they can provide no end of problems to your conservatory. The innocuous tree that appears to be metres away from your proposed conservatory site may be hiding an extensive underground root system that's heading for your house! Even if roots aren't spotted during the initial conservatory foundations dig, it's important to consider how they may affect the build in future years. Be aware that some trees have protection orders, and can prevent you from doing any building work that could disturb their roots!
Planning Your Conservatory
Are you ready to break ground on the home extension of your dreams? Our experienced team can help to guide you through the process of choosing the right conservatory for your home, right through to when you first step foot into your brand new room. Click here to read more about conservatories from CN Glass, view testimonials from our satisfied customers and download our brochure.
Contact CN Glass today to arrange a quotation. Reach us in the following options.

Norton House, Beaumont Road
Banbury, Oxfordshire OX16 1SD
"*" indicates required fields