CN Glass is a FENSA Registered Company
For more information please visit www.fensa.co.uk
FENSA stands for the Fenestration Self-Assessment Scheme. It has been set up by the Glass and Glazing Federation (GGF), with Government approval, in response to the new Building Regulations for England and Wales.
From 1 April 2002, all replacement glazing in dwellings will come within the scope of the Building Regulations. From then on, anyone who installs replacement windows or doors will have to comply with improved thermal performance standards.
When having their windows and doors replaced from this date homeowners must ensure that they get a certificate from the Local Authority Building Control or have the work completed by a FENSA Registered Company.
One of the main reasons for this change to the Building Regulations is the need to reduce energy loss.
How to find a window or door installer you can trust
Why choose a FENSA Approved Installer for replacement windows or doors?
Five essential questions to ask your installer when replacing windows or doors
FENSA Homeowner Information
What has to be certified?
Where a window or windows is/are completely replaced (as opposed to repaired) in existing dwellings, they must comply with Approved Documents Parts L1B and K4 (England) or N (Wales) (safety in relation to impact). In addition, the building should not end up with a worse level of compliance with respect to other applicable parts of the Building Regulations, which includes Parts A (Structure), B (means of escape in case of fire), C (Moisture Penetration, F (ventilation), J (combustion appliances and fuel storage systems), M (access for the disabled) and Regulation 7 (Workmanship and Materials).
Compliance with the Gas Safety (Installation and Use) Regulations 1998 is also essential.
The Building Regulations for replacement windows state that "The situation must be made no worse than the outgoing windows". For example if the outgoing windows contained trickle vents the new placement windows must include them.
Windows and doors in critical locations ie windows below 800mm from floor level and doors where the glass comes within 1500mm of the floor level to the start of the glass must contain safety glass (toughened or laminated) and must include the relevant safety mark clearly visible to comply with Approved Document N.
When does FENSA not apply?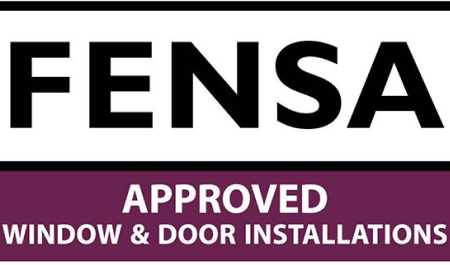 FENSA does not apply to conservatories, porches, commercial premises or new build properties or extensions. In all of these instances, you are required to go through the Local Authority Building Control process. If your property is a flat then planning permission may be required before replacing your windows, therefore it is advisable to check this with the Planning Department of your Local Authority. If planning permission is required a FENSA registered company can register the installation for certification
purposes. If you live in a property that is a Listed Building and wish to replace your windows this would fall under the jurisdiction of the relevant Local Authority therefore planning permission would be required and the installation cannot be registered with FENSA.
Doors with less than 50% glazing do not require registration. FENSA also does not apply to caravans or holiday chalets.
The Part L Approved Documents of the Building Regulations for England and Wales came into force on 1st October 2010 and are further regulations to the original Document L regulations of 2002 as detailed below.
New buildings have to be at least 25% more efficient than those built before October 2010. The calculation is made by the energy consumption of the whole dwelling and not just the windows, doors and other glazed elements.
For Replacement windows in existing dwellings and extensions to dwellings, the requirements for Window Energy Ratings and window U-values have been tightened. Greater restrictions are placed on the centre pane U-value (the glass part of the window). Window Energy Ratings have been introduced and this applies to the whole window (frame and glass together) a minimum Window Energy Rating requirement is now required of a Band C.
Window Energy Ratings for Windows and Doors in existing dwellings.
WindowRoof WindowRooflight
Window Energy Rating (WER)
Band C (or better) OR
Window u-value of 1.6 W/mK
Doors with > 50% glazed area
Other Doors
U-value of 1.8 W/m2K
Where the external appearance of the facade or character of the building prevents the standards in the above table being satisfied, replacement windows should have a centre pane U-value of
1.2 W/m2K or single glazing should be supplemented with Secondary Double Glazing using Low E Glass.
Conservatories with a floor plan area of less than 30m2 are still exempt from the regulations providing that there is an appropriate thermal separation between the conservatory and the dwelling and that the heating system of the dwelling is not extended into the conservatory otherwise the above table applies. If the separation between the conservatory and the dwelling is removed and not replaced then the conservatory is no longer exempt.
Regulations of Double Glazed Units
New Regulations in the Glass Industry from 1st April 2002
Document L
Document L is the part of the Building Regulations for England and Wales that sets the standards for energy efficiency in buildings.
Why are There Changes to Document L?
The UK Government is committed to reducing energy consumption for two reasons:
1. As signatories to the Kyoto agreement commitments have been made to reduce emissions of greenhouse gases such as carbon dioxide; almost half the carbon dioxide emissions in the UK result from the generation of the energy we use to heat, cool and light our buildings.
2. More efficient use of non-renewable fuels such as gas, oil and coal.
In fact, in the UK we are lagging behind our European partners, many of who have had much more stringent energy conservation legislation for some time now.
What Exactly has Changed with the Glazing and Window Industry?
The U-Value
The U-value is the rate at which heat energy transfers from one side of a window to the other. The lower the number the more thermally efficient the window is.
The U-Values are measured in watts per metre squared Kelvin (W/m2K).
The U-Value that must be reached by a combined glass unit and it's frames is:
Timber and PVC-U windows and doors have to meet – 2 W/m2K. Aluminium and Steel windows and doors have to meet – 2.2 W/m2K.
Do Replacement Windows Have to Meet the New Regulations? – YES
Whether it is one window or one thousand windows, a replacement window project is covered by the requirements of Document L.
Do conservatories need to comply? – Conservatories that are unheated and separated by doors from the house are exempt.
Just one exception to this is where an individual sealed unit or broken glass pane is being replaced – in which case it is counted as a repair rather than a replacement and is therefore not covered by the new regulations.
How can the Thermal Performance of a Double Glazed Unit be Improved?
Double Glazed Units can be improved in several ways…
By replacing the standard glass with a low emissive (low E) glass.
By replacing standard spacer bars with better insulating 'warm edge' spacer bars.
By increasing the unit's cavity up to an optimum width of 16mm.
By replacing the air within the unit with an inert gas such as argon.
What is Low-E Glass?
This is glass which has an enhanced thermal coating designed to reflect heat back into a building, thus increasing efficiency and reducing wasted energy.
How Will the New Changes be Monitored?
Given that there are approximately 1.2 million replacement contracts per year in the UK alone, a self-certification scheme has been introduced.
The scheme is called FENSA and is monitored by The Glass and Glazing Federation.
All contracts will receive a certificate on completion to confirm that the new installation conforms to the new Document L.
As fuel prices increase, especially with the addition of VAT to domestic fuel bills, the resulting cost savings are becoming increasingly desirable for both domestic and commercial end users. Additionally, environmental pressure will escalate the demand for more energy efficiency in particularly in the construction of homes and commercial or public buildings.