British Standard BS EN1279 Part 2 & Part 3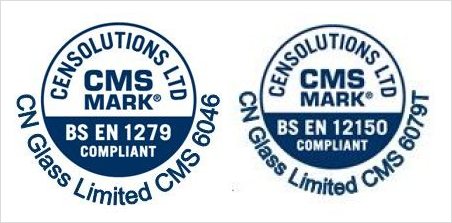 We have been awarded the British Standard BS EN1279 Part 2 & Part 3 for the manufacture of Double Glazed units. The British Standard is a symbol of trust, integrity and quality. Manufacturers having this award associated with their product will reassure customers that they have satisfied the most rigorous of quality processes.
Basic Requirements for achieving BS EN1279 Part 2 & Part 3
1. Implementation of FPC (Self Auditing) System, requires the manufacturer to produce and comply with the principles set out in Part 6.
2. Units to be tested to EN1279 Part 2 (& 3 if appropriate) at a Registered Test House – TNO, BSI, BM TRADA or other approved Testing Establishment. Part 2 is the high humidity cycling weathering test that measures the rate at which moisture penetrates the unit. Part 3 is a combination of a shortened weathering test and a gas leakage test that results in an index that equates to the gas loss rate over a one year period
3. Preparation of Technical File including: Product Indication Papers (PIP's relating to Part 4 and other components used) and a detailed System Description (often thought to be a simple description of the components used in the manufacture of test units but in reality is a highly detailed document).
4. Declaration of Conformity produced by the Manufacturer claiming conformance to EN 1279.
5. Correct labelling to the specification as laid down in EN 1279 Part 5. CE mark is not mandatory if UK manufacturers are selling product within UK borders.
FENSA stands for the Fenestration Self-Assessment Scheme. It has been set up by the Glass and Glazing Federation (GGF), with Government approval, in response to the new Building Regulations for England and Wales.
From 1 April 2002, all replacement glazing in dwellings will come within the scope of the Building Regulations. From then on, anyone who installs replacement windows or doors will have to comply with improved thermal performance standards.
When having their windows and doors replaced from this date homeowners must ensure that they get a certificate from the Local Authority Building Control or have the work completed by a FENSA Registered Company.
One of the main reasons for this change to the Building Regulations is the need to reduce energy loss.
TrustMark is the Government Endorsed Quality Scheme covering work a consumer chooses to have carried out in or around their home
When a consumer uses a TrustMark Registered Business, they know they are engaging an organisation that has been thoroughly vetted to meet required standards, and has made a considerable commitment to good customer service, technical competence and trading practices.
By ensuring all Registered Business adhere to and maintain these standards through our expert network of Scheme Providers, TrustMark gives consumers increased confidence and choice. Additionally, in the event that a problem does arise, TrustMark offers a range of remedies to give further protection to consumers.
3 Cornerstones of Quality



As a 'not for profit' social enterprise, TrustMark takes pride in continually investing in the scheme, supporting Scheme Providers and Registered Businesses to improve consumer protection and standards across all sectors.
TrustMark was established in 2005 in conjunction with Government, industry bodies and consumer protection groups. Since this time, in response to the industry led, Government-commissioned Each Home Counts (EHC) review, the TrustMark remit has expanded to include all Repair, Maintenance and Improvement (RMI), Energy Efficiency and Retrofit measures, providing a level playing field of quality for consumers having work carried out in or around their home.
TrustMark operates within a Master Licence Agreement issued by the Government's Department for Business, Energy and Industrial Strategy (BEIS).
Our goal is to achieve a position where consumers can engage firms in complete confidence that work will be of a high quality, protected and at the agreed costs. We work with the all industries in and around the home, helping to reduce consumer detriment, build consumer confidence and increase opportunities for quality firms.
TrustMark is overseen by an independent Board, underpinned by a Financial Protection Panel and further supported through our close working relationship with the National Consumer Federation.
This platform provides the strategic direction for TrustMark to continue in our mission to increase the protection offered to consumers throughout the TrustMark journey.
TrustMark delivers this consumer confidence through its expert network of Scheme Providers and their Registered Businesses. TrustMark Scheme Providers commit to meeting the Framework Operating Requirements, and ensuring their Registered Businesses maintain required standards of technical competence, customer service and trading practices.