Our C N Slim Heritage Double Glazed Units offer the perfect replacement for listed buildings or those with historical significance.
C N Slim Heritage double glazed units have the appearance of single glazing, therefore, retaining the character, charm and heritage of the building. Only a very close inspection will reveal the glass to be a double glazed unit especially if Crown reproduction glass is used.
When glazed traditionally into sash/casement window frames the units are virtually undetectable because slim units do not have the double reflection or the distorted reflection that is seen when you sometimes look at standard double glazing, making them perfectly suitable for conservation or listed buildings. (subject to local planning).
By also using the technical glasses available today and by filling the space between the two panes of glass with an inert gas a homeowner may gain all the thermal and sound benefits of normal double glazing without compromising the appearance or the value of their property.
Key features:
Available from 11mm depth
Slim Sightlines
Use Planitherm Low E Glass for a warmer house in winter and cooler in summer
Use restoration Glass
Use Toughened Glass
Fill the cavity with an inert Gas for improved acoustic performance
Low U-Values
Eco Slim Heritage Double Glazed Units
Super Spacer is produced down to a minimum depth of 4mm allowing us to produce the very thin Double Glazed Units suitable for glazing in conservation areas and listed buildings (subject to planning permission). It is important to note that sometimes you do have to use Krypton when limited width is available. i.e.: in old buildings for example.
Currently, our C N SLim Heritage Double Glazed Units do not have an associated accreditation to conform to BS EN1279.
We manufacture our Slim Heritage Double Glazed Units to the same standards and processes as our accreditation.
How thick will the glass be?
For a unit that will fit into a minimum 17mm rebate the outside glass will be 3mm thick and the inside glass 4mm thick this will produce an overall unit of 11mm depth. The glass can be simply clear or patterned annealed/float glass, for security it can be toughened, for improved thermal performance, it can be Low E Energy Saving glass.
For new replica timber windows, the rebate will be slightly deeper allowing for both internal and external glass to be 4mm therefore the overall depth of the unit will be 12mm.
We bed the units on silicone centralising the unit within the frame, fill the void between frame and glass with a low module silicone this allows both movement and a waterproof seal, allow the silicone to cure and then face putty or use a timber glazing bead to finish.
Restoration Glass – Crown Glass
The only traditional method of flat glass making left is the cylinder process (known as broad or sheet glass). This is now used in restoration projects that would originally have utilised crown glass.
Glass is gathered on the end of a pipe and placed on a block of hollowed-out wood. The glass is blown and then re-heated. The blower swings the glass "pipe" in a vertical plane until it is elongated into a cylinder. The cylinder is then split down lengthways.
The split glass is then re-heated and flattened on a smooth stone and then annealed.
This process allows the colour range to be limitless; the glass is used ecclesiastically, commercially, domestically and for restoration purposes. It is also easier to make in comparison to any of the other processes.
Edgetec Super Spacer®
To produce our C N Slim Heritage Double Glazed Units we use Edgetec Super Spacer bar. Edgetec Super Spacer bar introduces no-metal, pre-desiccated, structural foam spacer system that is a warm edge technology to suit all sealed glass unit applications helping to deliver windows of the highest standards.
Super Spacer® bar is produced down to a minimum of 4mm, therefore, our C N Slim Heritage units may be produced with a minimum overall depth of 11mm this means it will fit a 17mm rebate.
Traditional timber windows are glazed with low sightlines. This creates problems for standard aluminium spacer bars which protrude into the sightline of the Heritage window. Super Spacer is just 3mm in depth, designed for slim sightlines.
Its award-winning, patented Thermal Set Spacer (TSS) technology gives the ultimate in high-performance spacer systems. Super Spacer has 100% memory and allows for expansion and contraction, a major cause of fractures in conventional sealed units.
With Super Spacer® thermal bridging is all but eliminated, resulting in a massive 70% reduction in condensation.
Most of the heat loss through a window occurs at the edge of the unit, Super Spacer® blocks this escape route.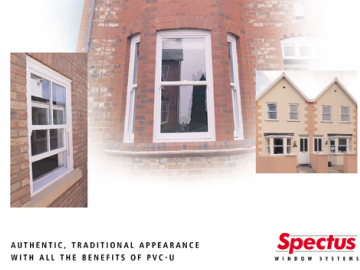 Gas-filled Units – Argon – Krypton
The introduction of gas into the cavity of a double glazed unit reduces the heat conductance between the panes, helping to keep more heat in during the winter and out in the summer. As a result living and working conditions become more comfortable the whole year-round. The combination of Argon Gas and Low E energy saving glass can achieve an improvement in thermal performance in the region of 50% over and above that of a standard sealed unit.
Argon, which has 34% lower thermal conductivity than air, is the most commonly used. Apart from its heat insulation properties, Argon is non-toxic, sunlight stable, non-corrosive, colourless and odourless.
Although argon-filled units cost around 5% more than air-filled units, they can improve a double glazing window's U value or energy rating by over 30%. Argon fillings should last the lifetime of a double glazing window and over a period of 25 years should not lose more than 5%.
Krypton is even more energy-efficient than Argon but are seldom used in double glazing windows as they are more expensive.
Technical Glass
With the use of technical glass and by filling the cavity with inert gas the U-value of CN-Slim Heritage Units can be as low as 1.5 W/m 2.K. The reduction of heat loss through the glass is up to 77 per cent as when compared against single glazing.
It is possible for traditional reproduction replacement windows installed with C N Slim Heritage Double Glazed Units to achieve the new Part L building regulations for thermal efficiency. (Subject to the size of the glazed sections of the window).
U-Values (the term used to measure thermal efficiency)
A U value is a measure of heat loss in a building element, therefore, it is the measurement of the whole window and not just the glass. It can also be referred to as an 'overall heat transfer coefficient' and measures how well parts of a building transfer heat. This means that the higher the U value the less efficient the thermal performance of the building element. A low U value usually indicates higher levels of insulation.
The thermal efficiency benefits of C N Slim Heritage Double Glazed Units over single glass can be seen below:
Single Glass – U-Value ….is approx. 5.6 W/m2K
| | | | |
| --- | --- | --- | --- |
| Glass 1 (External) | Cavity | Glass 2 (Internal) | Centre Pane U-Value |
| 4mm Float/Toughened | 4mm Krypton Filled | 4mm Planitherm Total Plus Low E | 1.9W/m2K |
| 4mm Float/Toughened | 6mm Krypton Filled | 4mm Planitherm Total Plus Low E | 1.5W/m2K |
Glazing
We bed the units on silicone centralising the unit within the frame, fill the void between frame and glass with a low module silicone this allows both movement and a waterproof seal, allow the silicone to cure and then face putty or use a timber glazing bead to finish.
SECONDARY DOUBLE GLAZING
Secondary double glazing is also possible for listed buildings and is often an acceptable way of preventing heat loss and satisfying conservation laws but care must be taken to ensure glazing bars match the windows' bars.
You can read more about our Secondary Double Glazing via the link below.
Get in touch
Call one of our offices to speak to our slim double glazing for heritage and listed building experts.